Testimonials
Hi Jestine,
Thank you so much for taking so much of your times to provide us the necessary info about repairing the computer monitors. Wish you "forever" healthy & good luck to you whatever you do!
C.T.Tan
Singapore
---
Hi jestine,

Your articles are always very good. Thanks for posting them to the
group.
Steve Hearns
Technotronic Dimensions, NY [USA]
---
Good Day,
I just want say that i enjoying reading your website even before the first time i saw it i included on my favorites on my computer and i always open it everytime I surf the net I always try to check if you have any new topic. I can proud to say that your my idol i hope i can be like yours someday. I'm on the process on polishing my skills on my chosen career I been 2 year in this field i found it really great and i understand the feeling you have when you love electronics . I planning to attain my peak skills on my job when i reach 30 I hope I can do that any way I wil just try.
I am biomedical service engineer I handle different medical equipment I'm not experience having major problem servicing some medical equipment except the dialysis machine it seems its easy to troubleshoots a medical equipment bec. they equip with microprocessor telling you whats wrong with them I just replace the board causing the unit malfunction. In my job I cant repair it by parts bec. the manufacturer does not allowed it and the main major reason is to make sure the unit is safe to used by the end user and patient and to ensure precise & proper functionality so our S.O.P is by board level.
I want to satisfy myself that i can able to troubleshoot and repair a equipment by parts i know i cant do that on my job.My plan is to repair a tv or vcr..etc. to practice my self on by parts. Thanks again for your tips how to troubleshoots a certain parts of equipment. Hope you understand i talk to much, I'm so happy . Keep up the good work sir.Thanks you so much...
Don
---
Hi Jestin
What an excellent person you are. God bless you. I live in Spain and always
wanted to be a free technician for human kindness. But I could not be. Here
I have always seen people throwing monitors, videos, and other electronic
items whom they could not repair, and many times I feel sad for those people
who don t even have luxury to have these things. You and your work, I
appreciate and salute you.
Thanks
Maya
Spain
---
Jestine,
That is very nice site and may God bless you.

Tamakloe

Ghana
---
Dear Jestine:
Yes, the transformer is dead allright! You were absolutely correct. I have 120 volts entering and nothing on the output at all. (Now that you taught me how to use my meter)
Thank you very, very much for your patience.
Tomorrow, I begin the search to find a new transformer!
Very Best Regards and thanks again,
Tony
Usa
---
hi justine
i will take this time to thank you for all your support now i can repair the monitors & tft without any problem. i used to fear monitors coz i didn't know how the circuit works but when i read your notes & repair tip now i understands.

i came to that when you don't understand the circuit you can,t repair any thing.

for the computer mainboard its so easy they usually take out the mosfet which i remove the one which is in the AGP circuit & put it in the memory slot circuit & the mainboard start working there nothing to buy is that people don't how PC power supply works

now irepair the following
dvds
printers
power supply , ups
monitors
that you very much happy new yr
kenya is fine
Sometimes later............and do you now what now i,m repairing about 3&5 monitors, lcd, laptops screens per dayand i have been learning through your website even i decided to print your picture and put it in my small office and onother in my house do you why the question i have been asking u about VDU,LCDs made me who i,m today, now i,m getting about $250 per week coz of you.i have sign contracts with 4 Tea factories. remember you told me computer mainboard are cheaper than monitors, last week i had 12 compaq s710 with int no display and the problem was just dry joint.
Ibrahim Rotich
Kenya
---
hi mr jestine i love your website it is like the treasure island to the technicians over all the world....
Wael Fathe
---
thank you for your website and all good information in there
Riad
Algeria
---
Hi Jestine,

I enjoy reading your emails, they are very informative.
Tony Gerada
---
Hellow Jestine,
Am writing to thank you for these very good articles
you have been sending me. I must admit am learning
alot in your articles and I really appreciate your
willingness to help others through your work.
Please keep on sending these electronic repair
articles to me, am grateful for this.
Thanks and warm regards,
Stephen
U.K
---
briliant site,, and fantasticly helpfull, i was reading the ,,How To Repair Dell E153Fpc LCD Monitor With Display Shutdown Problem.
Neil
---
You are such a super cool super Geek!!!! I love the articles! Thank you so much!

Keep up the good work!

One big fan!
June
---
Mr Jestina youn

i want to thanks for the information you have sent to me.
it's really important.

thanks again
Javier gamero
---
Hi Jestine I have just just receieved your article on SMPS and greatly appreciates it, and you sending stuff like your electronic servicing E-book is great thanks a lot.
Ali Majeed
---
What actually captivated my response is your philosophical approach and that you could or rather,
have excelled in your interests. It makes me wonder how you could have achieved so much knowledge in your own field and likewise, other diversities. Teaching, developing your own Webpage and Internet marketing; oh wow!..You see, it's not the status or the amount of income that envy me. It's the
amount of knowledge and achievements that you guys acquired that made me ponder. I believe, but how do you (not in any particular order) indulge and manage time, effort, concentration, determination, perseverance and err…I don't know the correct word or phrase, you tell me...Alas, I've two sons whom I hope, could learn a thing or two from you. Not just in terms of academic or technical know how within the courses that I would like to enroll them. More so important are the qualities of endeavours and wisdom in person.

H.K.Hui
Malaysia
---
your site is just oustanding !!



thank you again !!

Patrick Montaron
---
thankyou dear justin,...
thankyou for hoisting up this website and being kind enough to extend informations which otherwise would not have been affordable for me.i am a working biomedical engineer.many doubts that had occured in my career when i refered to other experienced hands ended up in either wrong information or angry remarks as"you do not even know that?" which finally proved that they themselves were doubtful as i am about these queries that rised. only a real genius and intelligent person can do what you are doing now. i bow before such kind heartedness.it really is making a change in my career .
with love and respect
jayesh k vijayan
---
Hi Very Dear Jestine Yong,
I am 100% glad that I've met you (though out of physical contact) and I'm glad to know you (though by Internet Sharing behind the Web). Thanks for your thoughtfulness and concern. You are a blessing to me personally. I am actually a fledgling in computing and IT world earnestly trying to learn and become practically sound in areas that interest me. I've found all your articles very resourceful. Thanks a great deal. Please do know you are ministering life to somebody behind your screen - keep sending the stuffs. Am nurtured and experiencing growth by them.
Right now, am trying to learn how to read electronic hardware components, trace circuits, and make a neat drawing of circuit schematics, troubleshoot for problems and effect necessary repairs with little or no assistance before I discovered your site a couple of days ago while groping about in the web for help. God saw my needs and placed your website in my hands for solutions. I will always let you know how am doing and going by it all since I've found you a man of true concern and care. If not for distance (Nigeria-Malaysia) I would have loved to always be with you in your repair shop/office for real life contact, mentoring and practical on hands experience. Be that as it is, am still glad and confident that you are and will be of good help to me leading me to my dream. Am really glad to know and meet you on net.
Thanks and Godbless. I love you as my IT Father and Mentor. And love to hear from you always.
Yours baby behind the web,
Theo
Nigeria
---
Hi,

I really enjoyed all your articles and was really suprised
to find someone locally sharing his knowledge on web........
You really have have inspired me especially after visiting
your website.

Thanks and GOD Bless you too!

Love in Christ,
Jeff.
---
Hello Jestine,
....... Thank you for your articles. More power to you.
Irwin
---
I have enjoyed reading your repair articles. You seem to be a very good and patience technician.
Bob Wilson
---
SIR,

I am your web reader since 2k3 . I am Indian. I heart fully congratulate u sir. Your website tec solutions to repairers fantastic or excellent. some problems some late reading u r mail sorry. please continue u r free serv , engg help to our tec engg world. Sir Thanking u once again
Srikanth
India
---

hi my dearest friend
thanks for all the precious news and information you
shared with me.I really appreciate what you do.May God
always be with you.

regards gary
---
Thanks Justine Yong for this article it had very good procedures for repairing electronics equipments.
Kimuli
---
Hello!! Sir, Young,
Thank's for sending a message to me and Thank's very very much for the Troubleshooting tips and repair. I learn a lot of that book,.
God Bless.....
Oliver Feliciano
---
Hey Jestine, Thanks a million for the good stuff you're sending me.I do appreciate it, and I make good use of them. Pls. Keep it up. Thanks
Larry Helton
---
Thank you very much Mr. Yong for your kindness. It
will serves for me as a big help as a beginner.

More power,
Edwin Rescober-Manila
---
Hello Jestine,
I've enjoyed reading your articles and your website, very much.
Ralf Schneider
---
Thank you for all of the information and effort. A lot of technicians are struggling for information & it a rare thing to find someone that loves the field & doesn't mind sharing Thank You & may God Bless
David
---
Hi Yong,
How r u doing ? thanks for ur aticle it was very informative.I am looking for more such kind of articles.Thanks again.
Regards,
Sananda
---
Dear Jestine,
Yes, I always enjoy that very interesting articles
plus your warm mode to transmit your ideas.
Regards and i`ll keep in touch.
martin quiñonez
---
thanks very much for your effforts

thanks for your Knowledge sharing

thanks for your Kidness


thanks Jestine Yong
Vandamme
---
Hi Jestine,

I wanted to send you an e-mail expressing my appreciation to you for resurrecting your repair article series. It was and is again one of the best sources of reliable information for techs in the repair field no matter how experienced they happen to be.

Your series was very helpful to me as I was taking my electronics from a classroom environment to the bench. Yourself along with others like Sam Goldwasser, and my personal friend Harry Fogarty are providing a continuing on-line educating resource that myself and others still take advantage of. When I first discovered your articles I was struggling (from inexperience) to make a bench job "pay" for my employer. Now, thanks partially to you, I run my own little repair company.

Thanks a million, and keep on with this Great Job! Very few people are gifted at imparting practical electronic repair knowledge in a usable form. I think that you should be more recognized by your peers for doing so. Freely "Giving back" so to speak on the internet.

Your friend and longtime follower of your articles,
--
Robert E. Amerson, Jr.
aka StarBaseONE2
dba Horizon Communications
POB 42
---
Hi Jestine, glad to hear you had a good week, mines not quite over yet as i
do shift work but im nearly there, keep the articles coming as i enjoy
reading them, like i said before you have got a really good site going -
full of hints and tips for us amateurs, keep up the good work!

Mike
---
gud p.m sir thanks for the answer that you gave i found that the heater voltage is only 3 volts i use a 7806 regulator and i tap it at the secondary of a chopper transformer after that i power up the monitor and the monitor back to normal brightness thanks again sir till next time more power!!!!!!
Wilbert flores
---
hi, Sir! Thanks a bunch for all that you doin' for me. God bless you yet the more! I've learned much with you.
Sieh
---
Good stuff on your site , keep the good work ..
Hear from you soon

Morris . R
---
Hi Jestine,

Thanks for your newsletters. I thoroughly enjoy reading them.
Tom Purcell
---
hi Jestine, this is a really great site - keep up the good work!
Mike kiely
---
Jestine:
I would like to thank you for your very inspirational message. Thank you very much kind Sir.
Irwin
---
Good day!thank you very much jestine yong this article help me a lot in troubleshooting an lcd monitor….
Wilfredo cunanan
---
sir,
Thanks for all electronics guide had you gave to me,its a big oppurtunity to explored by
knowledge about electronic troubleshooting, once again thank you and more more power.
Bot Turingan
---
Bones
Message: Thanks so much for your writeup on the Dell E152FPb repair. A while ago I found a similar problem in their 2000FP models (blown fuse to the CCFL supply) but you saved me a lot of time searching for the right component on this unfamiliar board.
---
Dear Jestine:
I just wanted to thank you for your articles, They are just WONDERFUL.
Best Regards
Kevin Christmas
---
Thanks for the great job you are doing and i am sending out word to my
fellows to visit your site. it is helpful.
Stephen Mahachi
---
Hi,

I think your site is great. I found some very useful
tips for troubleshooting LCD monitors. Thank you.
Alan Zuchowski
---
Hello Jestine,

It was amazing! Also I was read it. Faith and
strong determination are also keys to succes in
life,to reach your goals.
By the way I learned a lot from your ERG. Thanks a lot
because there is someone still living in this world to
share his knowledge without any amount of money to
comeback.
Edwin Rescober
---
Dear Sir Jestine,

Thank you very much for all the free articles you have
sent. As a starter in the repair world of Monitors, It
has greatly enhance my knowledge and troubleshooting
techniques.
It has been a very very big help on my part.
Thank you very much from the bottom of my heart.

Lito Pajuyo
---
Dear Jestine yong
First of all I would like to appreciate you for sharing your long time experience on the internet to let other technicians to improve thier skill of electronics repair .
I am In Ethiopia in the city of Awassa I was working in the Educational media center as maintenance techniccian I have an experience in repairing Transmitters and some studio equipments .In that time I was familier with using service manual of the equipments at the time of servicing . But I came to Awassa in the Capacity Building office ( governementai office ) as vidio conferencing tecnician But most of the time I am idle .So I decide to start my buisness in maintaining electronics equipments like dvd, vcd and TV . That is at this time I made a contact with you I can really say I am lucky I can contact you by email whatever the problem i face during maintenance I will mail to you I hope you will help me .
I recive your email on the sunday that guides the technicians like me before starting buisness Iread it throughly and nicely I will read it as well .
Once again I would like to say thank you
I wish you good sunday
Abebe
From Ethiopia
---
Hi Jestine, Your articles are interesting as always…
Charles Macdonald
---
Hi Jestine,

I enjoy your site quite much and I am impressed by the amount of work
that goes into your site.
Humphrey Butau
---
Sir!
Good day and have a nice day to you. Thank you so much for your information shared to me. I hope it would not stop.
Marnol
---
Hi Jestine and how are you doing,
thank you very much from my heart for this fruitful and valuable article as well as the other sent them so far, they realy helped me alot in my way of understanding electronics repair. thanks again and keep sending us these good stuff .
zakaria yahia
---
Hello Jestine. I would just like to congratulate you on what I see as a
fantastic
website you have created. Everything that you talk about is so true and very
well
explained……Again Thank you for your articles and I wish you all the more
success for the future!
warmest regards Martin
---

Hi Jestine , thank you very much , you're the best
Agus Waluyo
---
Mr Jestine,I am realy happy about this information.I want to sprcialise in t.v repairs,and tips like this are very advices.I shall download the schematic diagrams and follow your advice.Thank you very much.
Wish you a happy mothers day too.
All the best and take care of yourself
Kebba Mbaye
---
hi sir iam from india and iam your fan i like the way you teach people with your site in understand all the topics through your demonstration
sashi ranjan singh
---
I recently been a ERG menbers and received a lot of documental information regarding repairing electronic goods.
Thank you for sharing us with such great depth of information.Your experience really inspires me
Thanking You
Badonbok Diengdoh.
---
Derek Tan
Message: Hi,
I have found that your website info is very useful in helping me to identify area of improvement.
---
Hi Jestine,

It's was a verry good job I learned a lot of your procedure to analyze the
monitor failure.
Thanks to share with me your experience.

All the best for you Jestine.

Keep in touch.

Pedro Garcia.
---
Hi Jestine,

I really enjoyed your ebook….
Chris grech
---
Hi Jestine,
I enjoy and (learn) reading your articles. Keep them up.
Tony Gerada
---
Hi Jestine,

Thanks for the best advise you shared to me.
Edwin rescober
---
Hello Jestine,
Your articles and experience shared probably to many that subscribe to you are very, very helpful.I am a chemical engineer by profession but since I lost my job in 1991, I turned into electronics repair as a second profession. I really hope that you will continue to share your knowledge to people like me who still have much to learn about electronics repair. Thank you and more power!
Henry ducan
---
Hi Jesting,
Thanks for your information. It helps a lot. Rare to find someone like you in this world.
unknown
---
Hi jestine

Just a quick mail to say that I enjoy reading your site and all the
valuable info and tips you have available,I enjoy electronics as a hobby
and although I am in the telecommunications area and not in the
electronics repair business it just goes to show if you put your mind to
any problem you will be able top solve it

Regards machiel
Sunny South Africa
---
sir,
Thank for all the information had you did it to me,its so very hepful to explore my
knowledge.
Thank you na more more power
Bot turingan
---
Hi Jestine excellent article I wil see how I adapt it to TV SMPS .ali keep it up.
Ali Majeed
---
Hi. Jestine.

Very interesting, your method.

Very thank you
Hector. (Colombia)
---
Hi Jestine, hope you are well! keep the articles coming as they are
fasinating to read - you are an electronic genius i hope one day im as good
as you but i dont think i'll ever be, its great to hear how you can solve
all these problems, your website is an inspiration to us all - keep up the
good work, bye for now
Regards
Mike
---
Jestine when will your news letter for the week be available? I can't wait to see it.
Best regards
Kebba
---
Hi Jestine

Thanks for all the brilliant info in your newsletters.I really learnt a lot
from you.
Thanx.
YASEEN SULEMAN
---
Dear sir,

i am SANDIP RAJARAM VISPUTE.i have my own computer hardware
shop.i have working experience of KOBIAN ECS CO.LTD which is
manufacture the Mercury brand computer hardware peripherals
including the mercury motherboard's.in silvasa india.

i like this web site,i am working in electronics from 4 to
5 years but i dont know
about this type of electronics feedback site are available in the world, sir
you are very good person in the world because you are
improve knowledge of student's,technitian's,engineers. i am very
happy to joint your team as a member.

thank you very much
---
Hello ajestine ayong.
Thanx for the articles you have been sending me every week. They have not only taught me new technics of trouble shooting, but also have to make a good report after every work done. Thanx amd please keep it up.
best regards from Innocent
Good day.
---
Hi, Sir!
thank you a bunch for your repair tips. I got a Master's in Electronics.... I took on a job at a local American company as Computer & Electronics repairer, linux mail &web server and Windows 2000 server administrator. I am very good at IT but not at electronics repair.all is theory that I know. I've never used a screwdriver neither opened a monitor case. my concern was to find a tv repair website. after many research attempts for many months to no avail, I finally ran into your precious website. what a relief! now I am confident. no more awe. I am very at ATX power supply repair. it left with testing monitor flyback. I still can't figure out the pinout. thanx for your plenty newsletters.
God bless you!
Sieh Yol
---
I would like to thankyou & may GOD bless yo
Efrem Amanuel
---
Thanks a lot for all your mail i love to read it, i get encourage a lot by all the news letter that wrote
then i have to congratulate you.
Ted Gill
---
dear / justin
thank you for these interesting articles.
I hope to collect all these good articles in one book
and I'll try to translate it to arabic language if you agreed
just think
mohd matter
---
Hello Jestine,I am actualy happy abouy the news letter,it's very helpfull.I was in the habit of using this method but I am going to start practicing this method.
I have to thank you for your news letters,they are very helpfull,and this is why members grow interest in erg.
Thanks again for sharing tour very interesting experience.
Good luck and have a nice day
Kebba
---
hello sir, i really enjoyed regrading about ur articals .once again i thanks to you continuing your technical support .
akil rabi
---
Hi Jestine,
I am an electronics technician, I am 60 years old,I am in electronics about 40 years, mainly TV, audio, radio repairs, do some part time teaching of electronics and TV repair. I enjoy reading your articles, and they do help in getting a better understanding of some areas, I like your passion and think you have a great future ahead of you. I do not have an established business but do work at my home, repairs here is slow, but I spend much of the available time reading , web browsing, (like your site)and other TV /electronics sites.
Ali.
---
hi jestine,

My name is fadil from sarawak.. and proud of u for being a talented malaysian able to establish super highway of informative electronics engineering websites. not many people can do.
Fadilah bin hj daud
---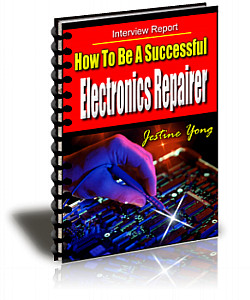 If you haven't sign up for my free monthly electronic repair newsletter, please click here to do so.
Thank You so much to all of you. May God Bless You Abundantly!
Jestine Yong
ElectronicRepairGuide.com